The choice between hard surfaces and carpeting in the home has always shifted back and forth. In the 1940s, hardwood reigned supreme. In the 1970s, carpets took over with trendy options like sculptured or shag carpets. When considering what's in style now, particularly if you are buying or remodeling a home, you can weigh several options. Let's take a closer look at popular choices.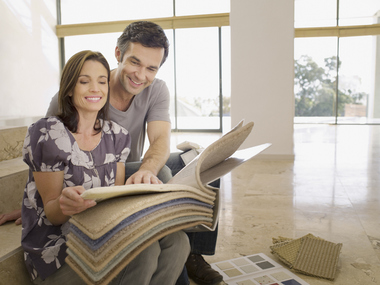 Refinishing Hardwood Floors
If your home has hardwood floors, especially the original floor, it would be a worthwhile investment to refinish them. When buying a new house, look at what's under the carpet to see whether the hardwood is worth keeping. Then create a strategy to refinish them. If the floors require a lot of work, it's best to hire a professional. Otherwise, you may be able to give them a light sand and seal.
Installing Engineered Floors
Carpet isn't an option for a lot of people, in some cases, because of pets or allergies. Some people simply don't like the look or feel of carpeting. In any case, several alternatives to hardwood floors can work well. Engineered floors come in a variety of styles, including a wood-look. The price of engineered floors can vary depending on what you want.
Selecting Natural or Eco-Friendly Carpet
A big carpet trend right now is natural or eco-friendly carpeting. The manufacturing process as well as the materials used can create a sustainable and durable product for the home. If this is the direction you want to go, look for natural fibers or recycled materials.
Opting for Bold Color and Patterns
You may recall a time when carpeting made a statement. The shag and sculpture carpets of the 1960s and 1970s eventually gave way to the bland, neutral carpeting that dominated the market in the 1990s and 2000s. Today, people are returning to more colors and patterns in their carpeting choices.
Call us today to talk more about current home flooring trends-- 210.478.8555