Organizing your laundry area correctly will give you more room to carry out the laundry-related tasks, making it easier and quicker to complete these chores.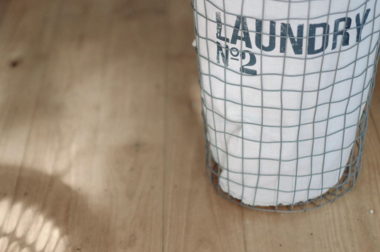 You can perfect the art of laundry with the following space-maximizing strategies:
Store Smart with Shelving
Adding shelves to your laundry room will make it easier for you to store all of your supplies without wasting any square footage. Having all of your tools in an easy-to-reach location provides seamless access to everything you may need.
Empty corners and bare walls are the perfect spots to install shelving. Try stacking shelves one on top of another to create a storage area that looks as good as it performs.
Invest in Collapsible Laundry Baskets
We all need an extra hamper room on heavy laundry days. But having spare laundry baskets doesn't have to mean crowding your area.
Instead, shop around for laundry baskets that collapse. Fold them up when not in use and store them in a closet or on a shelf. Then, simply retrieve when you need to use them and replace when you're done.
This simple laundry-room hack will save you from hauling massive amounts of laundry around the house.
Hang a Drying Rack from the Ceiling
Is your air-dry station taking up too much room? If so, consider hooking it up to the ceiling. Attaching a drying rack from the ceiling eliminates the need to create a drying area that takes up floor space, opening up the room for other necessities.
Even the tiniest laundry rooms have ample ceiling space, so this option will work for everyone — no matter what size room you have.
Use Storage Containers
Boxes, bins and bags will clear up the clutter around the laundry room, which will open up spaces that you didn't realize you had. Storage containers work wonders in small laundry nooks. Pack them full of supplies, label them and put them up on a shelf or stack them in a corner.
Add a Wire Rack to Doors
Even when you think you've used up every last inch, you've likely missed an opportune place. The back of the door is an often-overlooked location that has a massive storage capacity, if set up correctly.
One of the best ways to use a door for storage is to install a tiered wire rack. Hang this storage unit on the back of doors and fill it with all of your laundry favorites.
Reap the benefits of strategic organization with a new and improved laundry setup. With these simple tips, you'll expand your laundry room more than you thought was possible. For other tips to extend your laundry storage space, call us today- 210.478.8555